It's a beachside bolt hole with a mermaid-like pull. Waihī Beach is imbued with a salty, carefree spirit, it enjoys the warmth of an inclusive village embrace, and it beats resolutely at a leisurely pace. Located in the bountiful Western Bay of Plenty, just 2 hours drive from Auckland and 50 minutes from Tauranga, it embodies the best vibes of old-fashioned beach vacations. This golden glow of well-being faithfully rises with the sun, every day.
Confession time – I just enjoyed my very first visit to Waihī beach and despite its glittering reputation, it still managed to exceed my expectations. Looking through the diverse portfolio of real estate that lines its sublime coastline, covering everything from cute and cozy tarps to trophy beach houses, I'm sure most first-time visitors were struck by the godly impulse that quickly grabbed me; I wish I had a place here! Catering to such a wide range of incomes, elitism, exclusivity, or pretentiousness aren't the sort of traits you're likely to strike in this revered and cohesive beach-side community.
Strung along a 9km stretch of alluring white sand and boasting one of New Zealand's safest surfing beaches, the bustling seaside village is generously stocked with a wide variety of shops and of restaurants. And there are so many treats on the front page. Do not miss Chez Moi – The Swiss Chocolate Factory. Under the leadership of a Swiss couple, Ines and Adrian, these artisan chocolatiers are acclaimed for their quality artisanal chocolates. These delicious little bits of decadence are freshly prepared in front of you. Their truffles are made with Lewis Road's unique cream, while local New Zealand flavors make their chocolates sing, including Kaitaia chilli, local oranges, lemons, passion fruit, feijoa and mint picked directly from the garden.
Be sure to have breakfast at Secret Garden, a unique Balinese-inspired garden cafe in the heart of Waihī Beach Village. This oasis of hospitality on the main street has been artfully planted with lush tropical plants and palm trees, with pagoda-style seating. I felt positively transported – and revived. They serve superb Havana coffee, deliciously fresh salads, superfood smoothies and sweet treats. It's also a very popular spot for afternoon cocktails, while relaxing over bean bags and Friday happy hour in their Tiki Bar. The Mexican street food menu is also very good.
Overlooking the main thoroughfare of Wilson Road, Beach Pacific Apartments offers a host of pampered accommodation options that have been elegantly furnished and decorated, whether you want a self-contained one, two or three bedroom apartment. All options have open plan living, dining areas and large terraces with patio furniture for sunsets and al fresco dining on a balmy summer night. There are spa options, including the three-bedroom penthouse, which sleeps six, crowning the resort. www.beachpacific.co.nz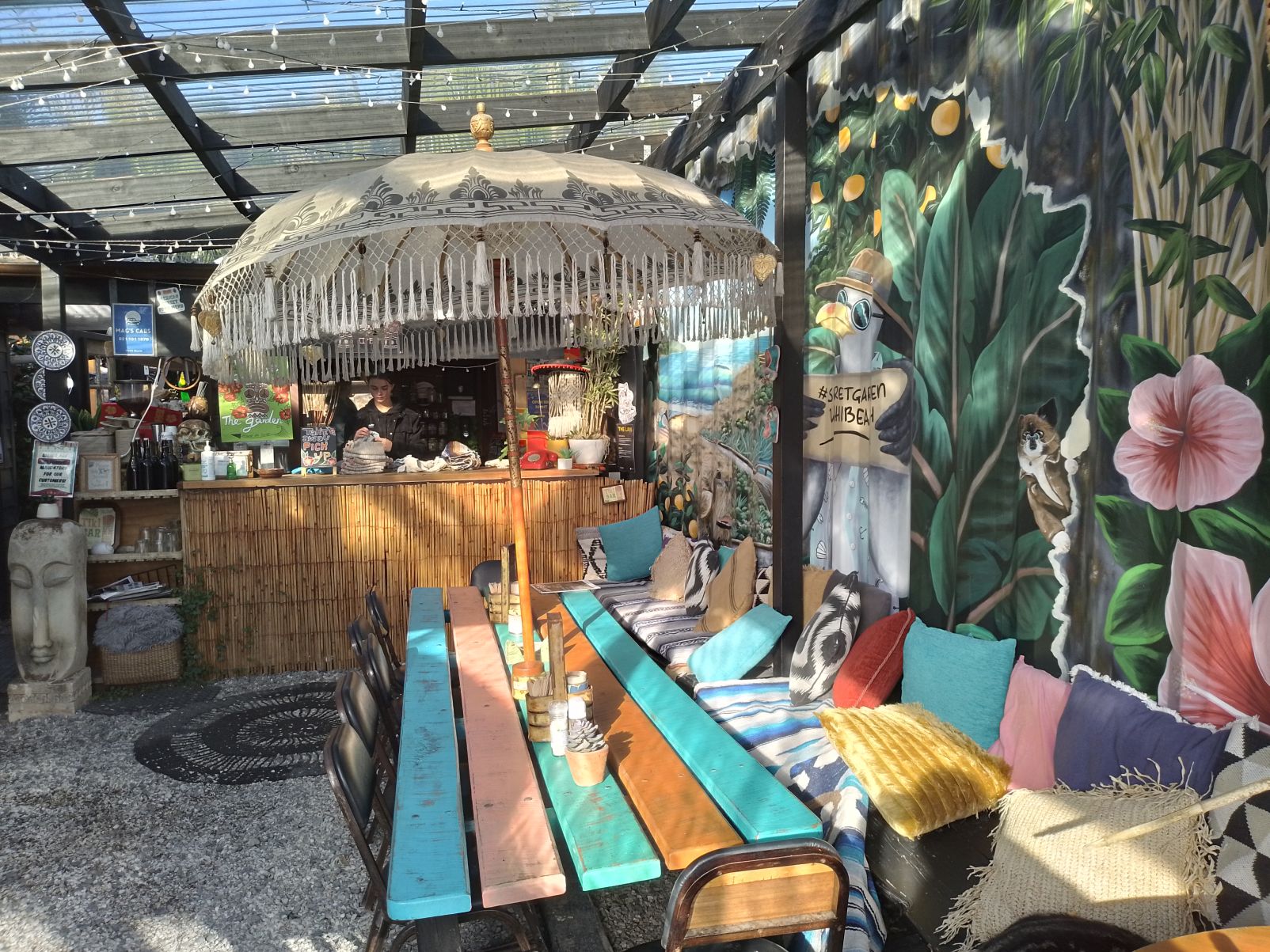 Dinner with a view? I opted for a coastal gem that unofficially doubles as an effervescent community bond. Flatwhite's spacious and beautifully appointed design exudes the warmth of a grand, half-timbered beach house, lining this wide expanse of sugar-white sand. It's the pinnacle of absolute beachfront dining — in fact, the closest competitor to rival Flatwhite's prized perch is as far away as Pāpāmoa. Open for breakfast, lunch and dinner, the epic views match the fabulous dishes. The steamed pork buns and fish tacos are great for sharing, but I especially enjoyed savoring a kai moana pizza. This extravagant build was made with shrimp, scallops, mussels, fish, spring onions, dill cream cheese, mozzarella, and fried capers. A sledgehammer.
Feeling suitably compelled to burn off the excess of all my food at Waihī Beach, morning walks involved knocking down the natural splendor of the Orokawa Bay boardwalk cliff. The day had dawned bright and sky blue, accentuating the scenic beauty of this walking banger. The entrance to this 90-minute round-trip trail starts from the northern end of Waihī Beach, with a strenuous climb to begin the procedure. Crossing the coastal promontory, surrounded by giant pohutukawa, kauri, puriri and nikau palms, accompanied by snapping scrolls and the songs of native birds, it was the constant sighting of kereru that enlivened the multi-sensory theater of this walk. The elevated views over Waihī Beach and up to Mount Maunganui are an early highlight, before the endless vistas of the big blue ocean continue to captivate me on this hilly trail. Descending through native bushland to Orokawa Bay, the feeling of blissful isolation is pervasive. Pack a picnic and park under the gentle expanse of an overhanging pohutukawa, to drink it all. Turning a pancake den into a really cool café, Pip and Jo lived the corporate life in Britain, before dreaming of creating a sustainability-focused café in Pip's home country. Since buying the property six years ago, this community-focused café has won numerous awards, including NZ Café of The Year.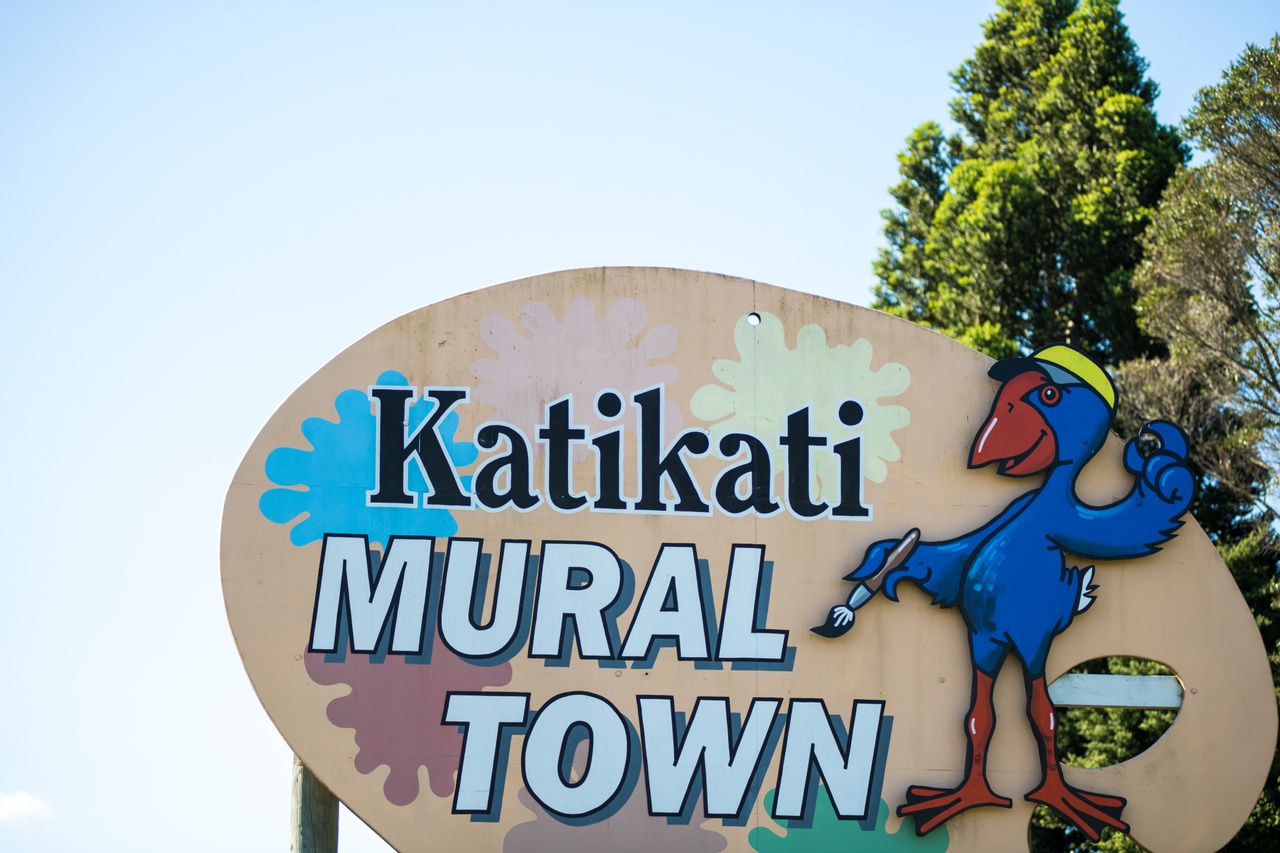 While I chatted with Jo about her intrepid guardianship efforts, jet-skiing around Orokawa Bay to check out small colonies of blue penguins, Helen Clark was exercising in the nearby gym, before make a reservation for lunch. It's that kind of place. Adepts of sustainability, Jo and Pip are also strong believers in giving back, heavily involved in charitable projects across the community. Its vibrant decor, outdoor garden, and eclectic menu cover everything from crispy breakfasts and savory burgers to sublime street food. They also mean pancakes! If you're up for one of their legendary burgers, enjoy a Ha-waihi Surf Burger – with a patty topped with double charred pineapple, double bacon and double cheese. One dollar from every burger sold is donated to the local Surf Life Saving Club. What a star specimen of a community-focused company.
Going back to Tauranga, our avocado capital, Katikati, looms as one of New Zealand's gayest townships. New Zealand's self-proclaimed wall city is unmistakably drenched in color. Its main street resembles an open-air art gallery, adorned with dozens of magnificent murals, sculptures and prints. But it's the highly detailed murals that are the stars of the parade, paying homage to its past, its people and its historic milestones. Grab a wall map and feast your eyes on this expressive journey of 78 works of art.
Accentuating Katikati's creative credentials, the Western Bay Museum brings to life the pioneering spirit of tangata whenua and European settlers in the region, sharing their stories through illuminating collections, interactive experiences, and carefully curated exhibits. Housed in the town's former fire station, the Western Bay Museum's mission statement is to be the best small museum in Aotearoa. They defend, commemorate and celebrate all aspects of Western Bay history, from the local Maori to the vast wave of Ulster Irish settlers who arrived in Katikati in 1875.
The town's founder, George Vesey Stewart originally called the colony Waterford, but it was changed to Katikati because George did not want to pay extra telegram charges by having to add the words, New Zealand, after Waterford – to avoid confusion with Waterford in Ireland. There are a variety of museum experiences ranging from the 1900s School Experience (in an original 1900s classroom) to the Step Back in Time experience, featuring scones, antique china teacups with volunteer guides dressed in period costumes. Te Papa is very supportive of the Western Bay Museum because they are so impressed with the consistently exceptional quality of their self-created exhibits. Currently, the moving exhibition, Service & Sacrifice, pays tribute to the heroic service and deeds of New Zealand women in wartime, from the Land Girls of Katikati to the first New Zealand nurses in a military campaign. (Boer War.)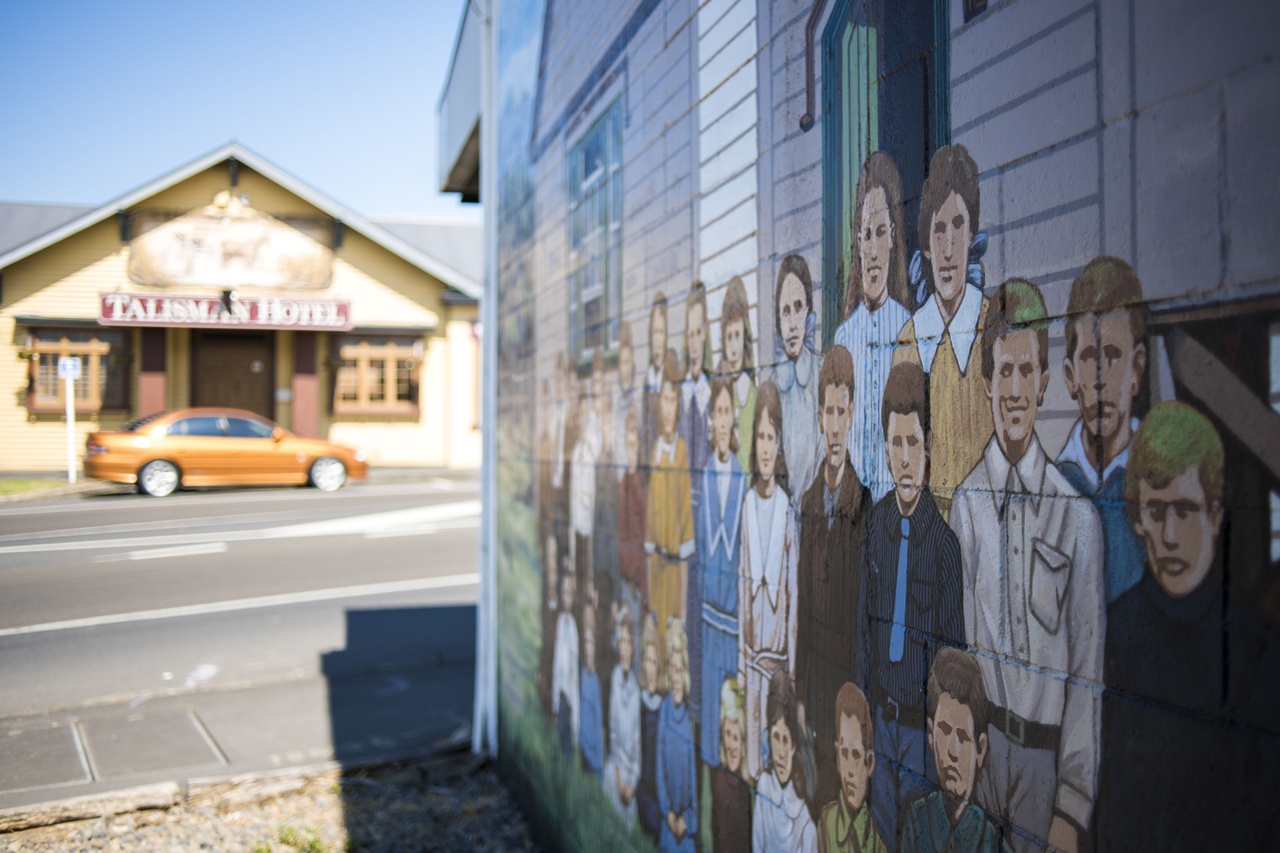 It's the personal profiles of some pioneering New Zealand women that really shine, including the life story of Te Puke's nurse, Marjorie Harris, who worked alongside legendary plastic surgeon Archibald McIndoe, who developed groundbreaking techniques for treating seriously burned Airmen. in World War II. They will become members of the now famous "Guinea Pig Club". Another highlight is the showcase of Ettie Rout, the World War I safe sex field officer. Aware of the threat of venereal disease to serving troops, her tireless work saw her dubbed "Britain's Baddest Woman", in the moral backlash that followed. Thanks to his perseverance, the New Zealand Army made it mandatory to distribute safe sex kits to all soldiers in 1917.
Just outside Katikati, I drove down Hot Springs Road, for a quick forest bath in Kaimāī Mamaku Conservation Park, which includes some of the best examples of New Zealand's 19th-century mining heritage. Historic pack horse tracks and bush trams can still be seen in many places in the park, along with other remnants of the days of gold mining and logging. One of the most popular trails is the Tuahu Track, which is an 11km long traverse over the Kaimai Range, spilling over into Te Aroha. But for a nice little taste, follow the signs for the Tuahu Kauri trail. Just 20 minutes away, this track branches off the main trail and takes you to a platform surrounding some of the tallest Kauri trees in the Bay of Plenty. These majestic specimens are 600 years old and are the southernmost Kauri.
I made my way through the Bay of Plenty in a trusty Mitsubishi Outlander, courtesy of Ezi Car Rental. If you're traveling with the tribe, upgrade to an SUV and get their spring SUV deal, starting at just $76 a day. Kiwi owned and operated, I really enjoyed the Ezi experience, where great cars, strict cleaning practices, super competitive pricing, and fast, friendly service are all part of the package. Ezi Car Rental operates an extensive network from 25 locations across the country. They are everywhere you want to be. Go to www.ezicarrental.co.nz
Pull up a beach chair, wiggle your toes in the sand, and relax. Anchored in bustling Tauranga, the wondrous Bay of Plenty offers 125km of pristine white sand beaches, surrounded by quintessential vacation towns and epic outdoor adventures. Lock in your summer getaway, now! www.bayofplentynz.com
Mike Yardley is our resident traveler on Jack Tame Saturday Mornings.