As household balance sheets become increasingly strained due to rising interest rates and high prices for essentials such as fuel and food, there is renewed attention on how mortgagors (ie homeowners with mortgage debt) navigate the changing environment.
Policymakers and lenders will be alert to any signs of distress in the housing sector. One of the first distress signals from mortgagors could be an off-cycle increase in the number of homes being added to the market.
So far, the trend of new listings across Australia has generally followed "normal" seasonal patterns, with no evidence of panic selling or a rise in distressed stocks coming to market. The flow of new registrations is generally in line with last year and deviates little from the pre-COVID average at the macro level.
Nationally, the flow of new listings being added to the market has been declining since late March, when 46,603 homes and units were newly listed in the four-week period ending March 20. Since then, the number of new four-week registrations has trended downward, with CoreLogic seeing 37,476 "fresh" registrations in the last four-week period ending July 17; 19.6% lower than the March 20 peak and 1.4% fewer properties compared to the same period a year ago, but 1.5% higher than the pre-COVID average (which includes the ten-year period before 2020).
It's important to note that the impact of COVID-related restrictions can influence year-over-year comparisons, especially in cities like Melbourne and Sydney where more frequent outbreaks have occurred. This is why the pre-COVID average is also a useful reference.
While the flow of fresh inventory being added to the market has tended to decline, the total number of listings has remained relatively stable, falling from a recent high of 149,327 in the four weeks ending March 20 to the most recent tally of 144,222 (a reduction of 3.4%).
The relatively stable number of total enrollments amid a sharper reduction in new listings highlights a slower absorption rate through the market. In the June quarter, the number of home sales was estimated to be 15.9% lower than a year ago, reflecting lower demand from buyers. The slower rate of absorption is likely to worsen as rapidly rising interest rates and low confidence further dampen buyer activity, suggesting that while new listings tend to decline over the In winter, the total announced supply is expected to increase in the second half of the year.
Although national trends provide macro context, the listing trend is remarkably diverse across Australia's capital cities and regional markets.
Areas where home values ​​are trending lower, including Sydney and Melbourne, are showing a more evident reduction in new listings, but these are also the two capitals where total advertised stock is now trending towards levels above the pre-COVID average. .
Conversely, stronger markets like Adelaide and Perth are seeing a relatively flat trend in new listings, but overall inventory levels remain well below average with no evidence that advertised supply is starting to increase.
Figure 1 – National New ad trend
Figure 2 – National total ad trend

Seasonal trends
The flow of listings is highly seasonal, with the winter months generally seeing a downward trend in new listings before rising rapidly in the spring. Nationally, the number of new registrations generally fell 9.2% between fall and winter (based on the pre-COVID average) before jumping 18.9% between winter and spring.
The seasonality of the flow of new listings between winter and spring is most evident in "colder" states. ACT enrollment increases by an average of 40% between winter and spring, while Hobart, Adelaide, Melbourne and Sydney also see a difference of more than 20% between winter and spring seasons.
However, in "warmer" regions, the trend is less evident. Darwin is the best example, with virtually no difference in the average flow of new listings, but new listings drop an average of 35% before the wet summer months, with autumn being the busiest time for new listings .
Figure 3 – Percentage change in average number of new registrations between winter and spring (based on pre-COVID average)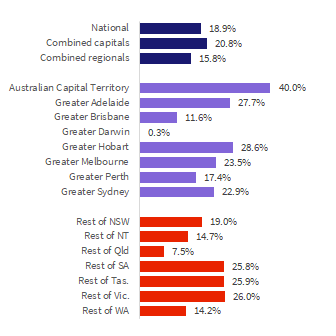 Nationally, new listings increased an average of 18.9% between winter and spring, the maximum registration month being October, closely followed by November. The seasonal spike in new listings in the spring and early summer is expected to test the market this year.
While the demand for housing is already tending to fall, as evidenced by declining home sales in some areas, it is likely that overall advertised supply levels will increase more significantly in the last quarter of the year and into 2023.
Higher levels of advertised supply mean more choice for buyers but also more competition for sellers. Ultimately, higher inventory levels would likely add further pressure on home values ​​as homes take longer to sell, prompting sellers to lower their price expectations further.
We can already see this scenario play out in lower clearance rates, longer time to market and higher supplier discount rates, although there is a significant level of variability from region to region. the other depending on the balance between buyers and sellers.
Median days on market in Sydney fell to 33 days in the June quarter (from 23 days a year ago) and median days on market in Melbourne fell from 27 days a year ago to 30 days during the June term. At the other end of the spectrum, homes in Perth sell on average in just 18 days, the equivalent of the median number of days on market last year.
Figure 4 – Rolling three-month sales volume, national

The full Property Pulse for July 28, 2022, including rankings where advertised supply is highest and lowest relative to pre-COVID average levels, can be downloaded below.
Download Property Pulse
---