Growing up in the UK during the 90s and early 2000s, HI-TEC was a brand that evoked physical education and after-school club vibes. They were the shoes your dad wore to play squash, or that pair of sports shoes your mom had owned for almost a decade and never worn out.
To give them some credit, these were definitely sneakers made to last.
After a period when the brand made its biggest global revenue from sportswear in the late 2000s and early 2010s, HI-TEC launched HTS74 in early 2017, a more focused footwear sub-line. on the lifestyle which sought to combine the outdoor capabilities of the brand, with a more modern and trendy aesthetic.
And while HTS74was to reinvent old styles through a contemporary lens, it was certainly not done to alter the HI-TEC narrative.
"HTS74 was not launched to change past perceptions of HI-TEC, [it] was launched to influence and appeal to a young, fashion-forward consumer looking for brands that have authenticity and connect with their own unique personalities and values," says Ian Cameron, Managing Director of HI-TEC Europe.
"We know that consumers who remember HI-TEC from their school days are now middle-aged and actively looking to remember and reflect on their past. For HI-TEC, we have always seen this as a unique brand strength, which we invite our consumers with a passionate and emotional reminder of our brand and our products.
In the midst of a world where the sneaker and streetwear scenes have never been more crowded, it might seem a little optimistic for a brand like HTS74 to win over a loyal following. Even so, when it comes to standing out from the crowd, in Cameron's opinion, it's already halfway there – thanks in part to an exclusive midsole/outsole innovation.
"We use the RollinGaitSystem (RGS) which was created by Vibram in conjunction with HI-TEC specifically for use in our outdoor products," he explains. "Our research and trend forecasting predicted the chunky, supremely comfortable design concepts that would dominate the street style of wearers many years later, driven by this midsole/outsole.
"Now, with this HTS74, you combine the best of both worlds: stylish and super cool sneakers with performance and comfort technology that promotes foot care and well-being."
Comfort and well-being remain key for the sub-brand, and five years after the launch of HTS74, it's safe to say that the brand has come a long way aesthetically too.
Previewing its Spring-Summer 2023 collection (which is arguably its best to date), HTS74 lays bare all its know-how, to present a capsule that truly captures attention.
The collection itself comprises three main drops, the first two of which pivot around the use of bright colors and take inspiration from 80s Vaporwave furniture, while the third uses more muted pastel shades of color blocking.
Typically, SS23 isn't expected to land until early next year, so you'll have to remain patient to try out one of its latest shoes. Until then though, Cameron remains focused on growing HTS74 and expanding its horizons.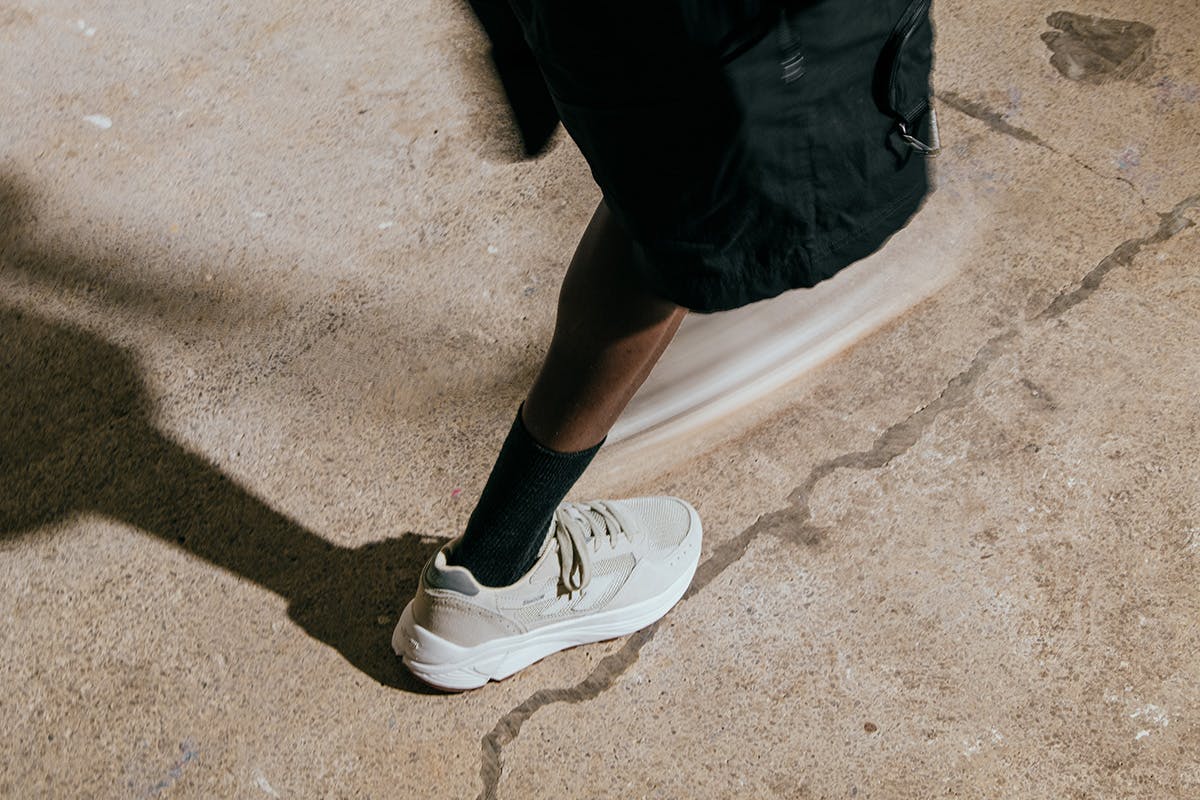 "We plan to work on exciting new designer collaborations that will increase awareness of our products while maintaining our unique consumer appeal and exclusivity," he continues.
"Today's consumer pays much more attention to health, lifestyle and wellness. That's why we believe HI-TEC – not to mention our history of innovative technology and performance developed over the past fifty years – has made a huge difference today. This is what makes HTS74 a unique and exclusive proposition.
Shop our favorite sneakers