---
Review of the Erdem spring 2023 fashion show
Poignant and emotional, Erdem enters the mood of the moment
By Lizzy Bowring
Poignant and emotional, Erdem Moralioglu MBE, has entered the mood of the moment, presenting his visually stunning collection today at the British Museum. Her show notes captured a lot in a nutshell: "Sorrow is the price we pay for love", A show dedicated to Her Majesty Queen Elizabeth 11. It would also seem poignant or just a mere coincidence that in September 2017 , Erdem presented a collection inspired by Queen Elizabeth 11.
Erdem Moralioglu's presentation was full of dignity and poise that commanded no beginning or end to his sensitive beauty story.
When art, cultural heritage and fashion combine, the result is profound and empowering, inspiring designers to enhance the fashion experience. Erdem is no stranger here, his collections are always deep, introspective and refined;
he is the penultimate storyteller who truly understands what fashion should be – where the worlds of art, history and fashion are one.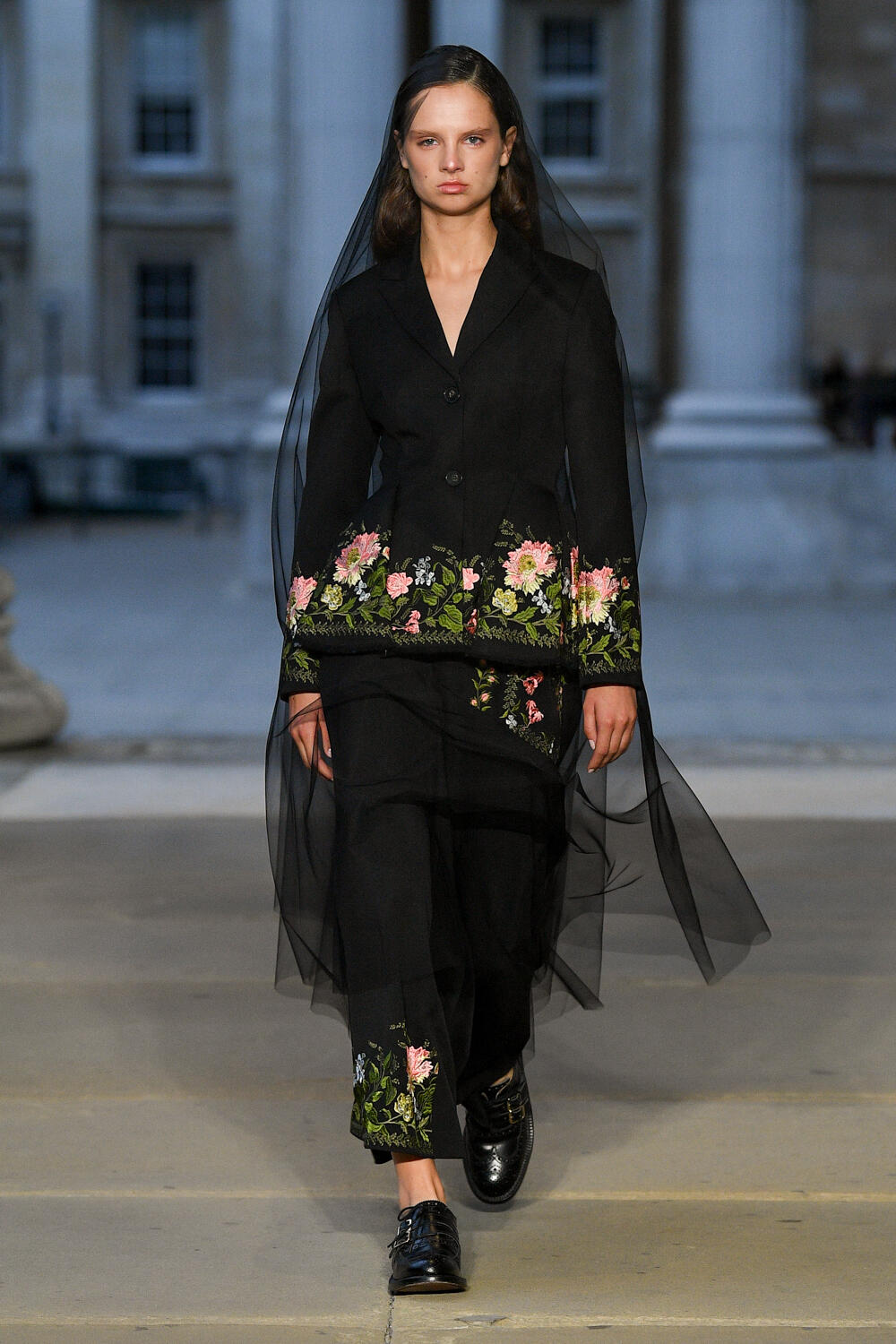 According to the show notes, having spent time at the British Museum, the V&A and the National Gallery, Erdem explored the restoration of art in its finest form, where the dedication required in restoration is based on emotional and technical creativity. Erdem was inspired by an 18th century embroidered dress revived by intricate tulle and a damaged 15th century oil brought back to life, based on a 17th century Dutch engraving. For Spring Summer 23, interpretations of these Old Master paintings were palpable throughout the collection, brought to life in the stunning embroidery and hand prints.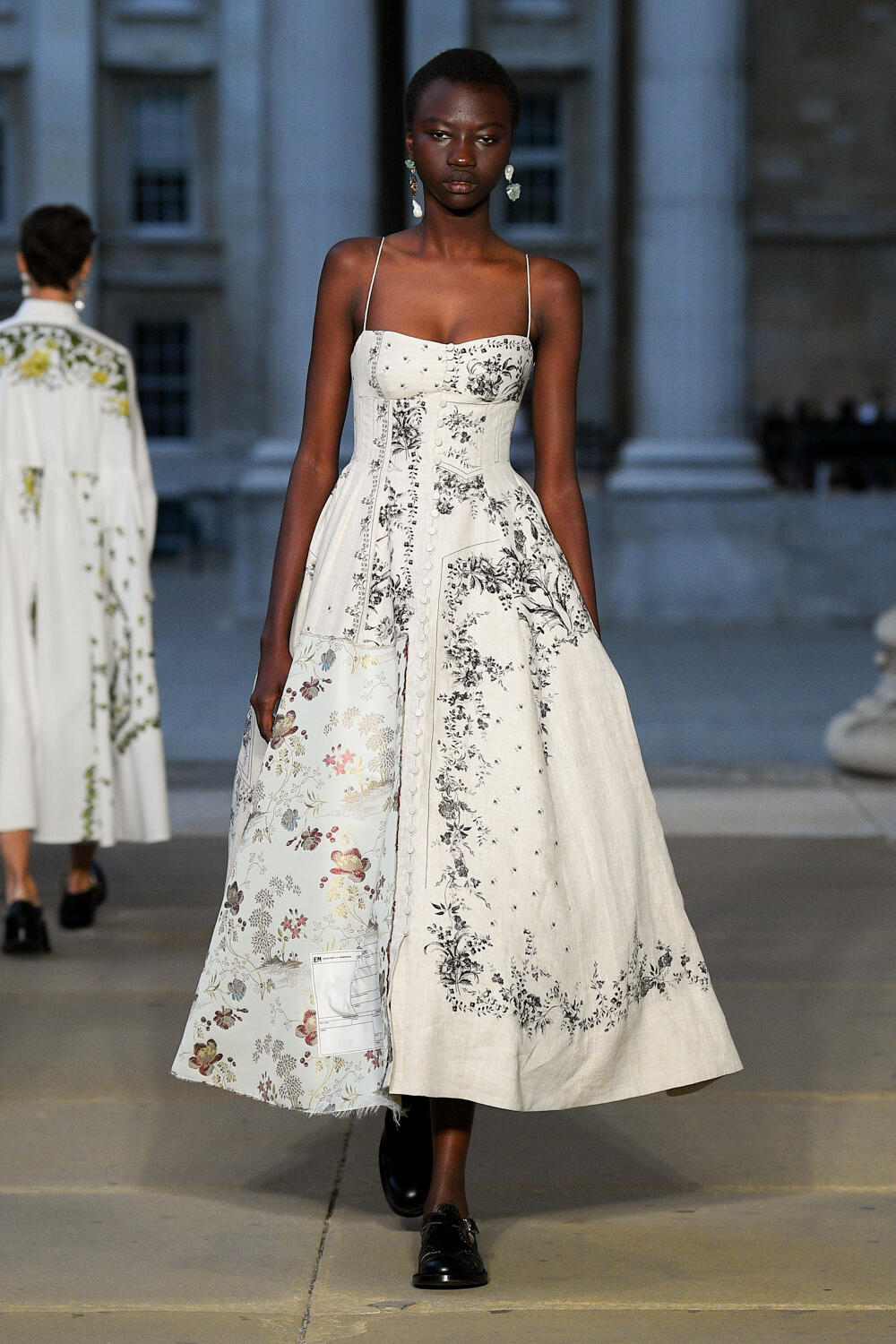 Erdem's collection was poetic, timeless and versatile, imbued with an intriguing interplay of strength, femininity and beauty that came to life through highly crafted, elegant and romantic pieces. OBO's production understood its aesthetic and deftly, amidst the museum's glorious columns, orchestrated models to glide serenely to Natalie Holt's music so evocative of the moment.
The beauty started with the very first silhouette, a black pantsuit draped in tulle and embroidered with garden roses that danced around the hem of the jacket.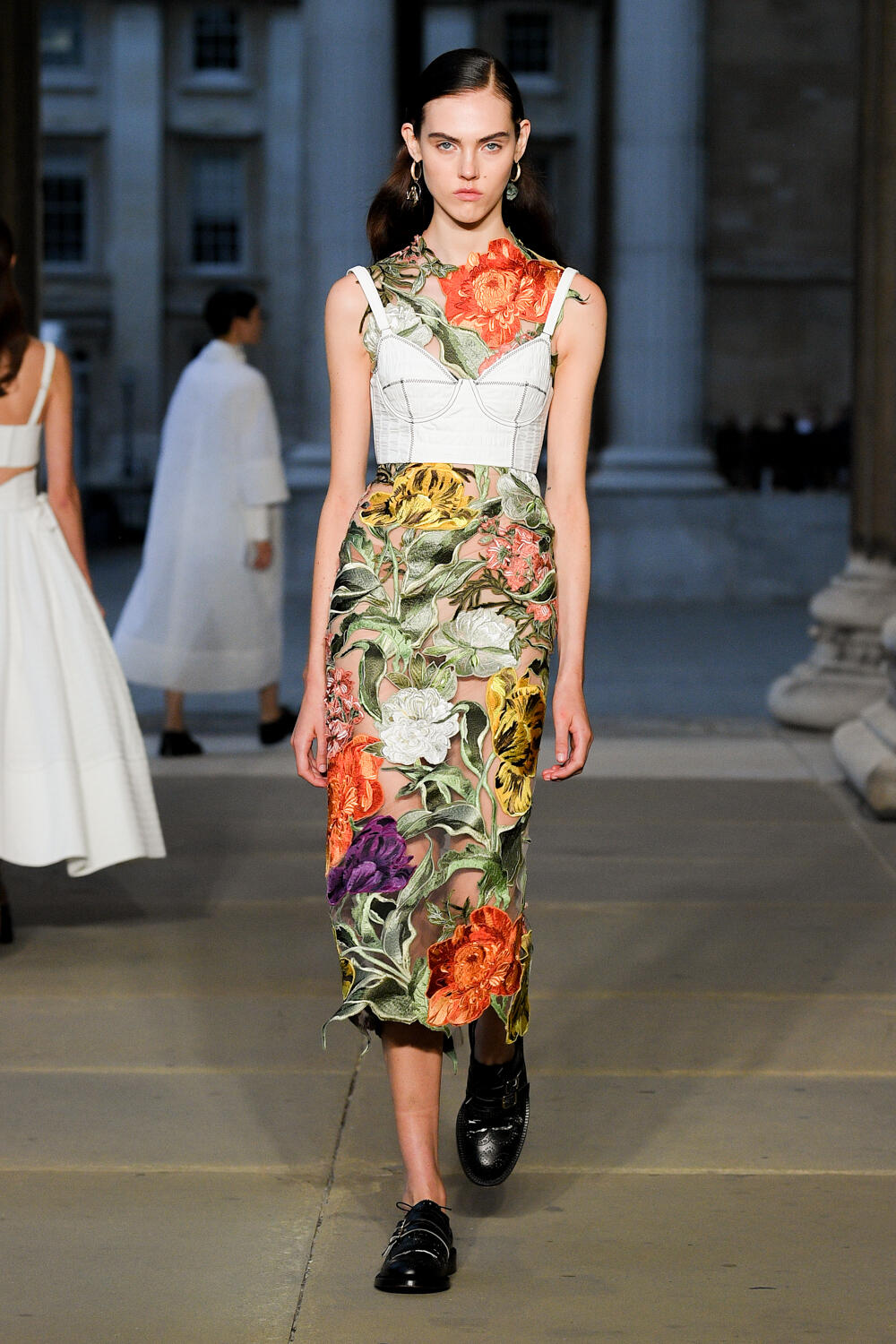 The return to nature was also poignant; Queen Elizabeth 11 was known for her passion for gardens. The slip dress in picture 2 bore all the hallmarks of the designer's attention to detail, the material covered in a spray of lovely flowers and the skirt folds delicately from a ribbon waist. Chartreuse is a strong shade for this season; here, Erdem hand-embroidered one of these colorful silhouettes in delicate gold flowers that also fell from the strapless neckline of the slim dress.
Modern wasn't too far out of the equation with a draped white cotton-faille bodice crafted with a pencil skirt in a burst Old Masters print.
Femininity was resplendent and expressed in the prettiest of dresses, with full skirts, perfect for a garden party. There wasn't a single piece that didn't employ a unique typeface.
A loose boned waist skirt in raw linen with an 18th century patterned print has been crafted from pieced scraps displaying old master prints. Or take the detailed bralette worn with a flared 50s silhouette skirt – pieced and patched but in the most delicate shape. Several form-fitting shapes offered a sexy edge with their sheer simplicity while being adorned with texture. Meanwhile, the dramatic closing vignette of three royal dresses in white and black displayed a hand of haute couture – full skirts and layers of flower-embroidered tulle approached a stunning outing.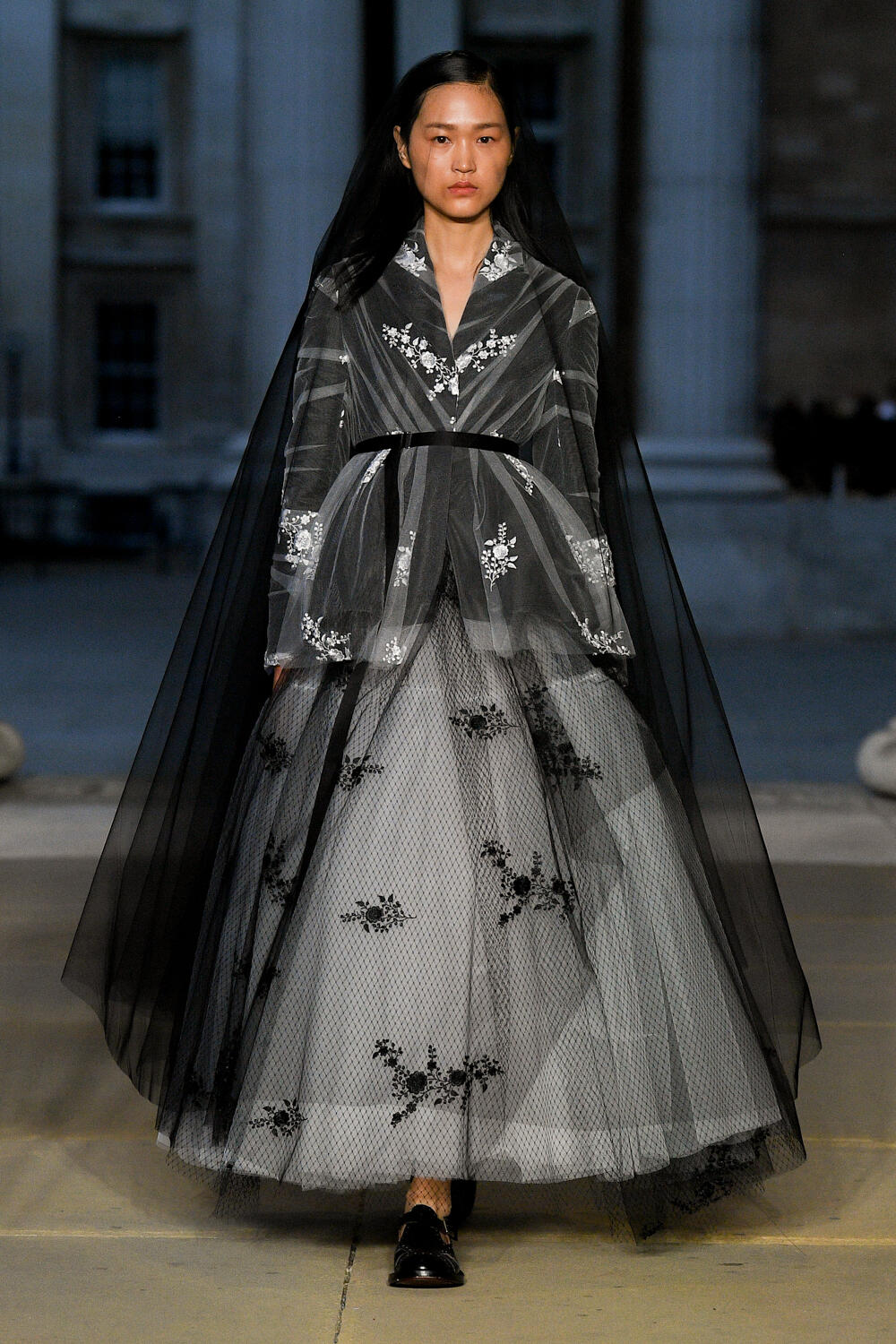 It must be said that creativity sparks individuality through compelling craftsmanship intuition, fashion art, history and life experience at all levels.
More than ever, designers are embracing what the world was like before us, around us, and the richness it has to offer. In this, Erdem is a true creative. Today, he presented a sublime and sophisticated collection that couldn't be more appropriate at the moment.
---