Auction in Vineland, NJ
VINELAND, NJ – Bertoia Auctions held its annual Spring Auction at a two-day event, May 19-20, where all manner of toys drove, flew, blew, walked or jumped through the block. With over 95% of the 1,209 lots found in new homes, the sale was a solid success and brought in over $1.2 million.
"One thing we observed that was consistent throughout the sale is that condition is king," Michael Bertoia said after the sale. "And the parts that are new to the market are always very well accepted."
Marklin is about as good a name as train collectors want, and a red-cab locomotive and tender has proven itself, earning $21,600 from a bidder in the room. The locomotive's clockwork, gauge 1, was 10 inches in length and while it was missing a bell and lamp, it was otherwise considered to be in mint condition and was descended in the family of the original owner. . It was the highest prize obtained at the event.
There were around 60 Marklin lots in the sale in total, with results across the board. Following the red cab locomotive and tender were two Limited Vestible Express cars – both O-gauge and both all stock – rolled in at $11,400, more than double the pre-sale expectations. Both came from an estate sale in upstate New York. Marklin's other results in the sale ranged from $240 each for a large number of aero racers and a four-wheeled coach to $4,200 for a container gondola that retained its original gondolas.
On March 11, Bertoia sold a Tippco Mickey and Minnie Mouse motorcycle for a record $222,000. A total of 39 Tippco lots were offered, but none came close to the result achieved by Mickey and Minnie. A German motorcycle with two army soldiers, alongside a third in a sidecar, beat its estimate by $6/9,000 and closed at $13,200. It was sold by the same seller as a single-rider German army motorcycle that fetched $6,600.
A charming 20-inch-tall Steiff center-stitched teddy bear in excellent original condition, with only a few moth holes in the pads also fetched $13,200. It was the only Steiff toy in the sale. Other animals in the sale could be seen in a mechanical goose jar holding goslings ($12,000) and a vast German Noah's ark with 104 pairs of animals from the Kaonis collection ($9,600). Also, from the Kaonis collection was a neatly dressed clockwork bunny in a roundabout car that got away for $1,200.
A large collection of Coca-Cola collectibles, owned by Ray Burgess, was advertised everywhere and 95 lots were presented which covered a myriad of shapes and sub-categories, but all – well almost all – displaying the red logo and familiar white. A rare 1930s five-cent fountain dispenser in six-sided form was in excellent original condition and quenched the most thirst when it fetched $9,600. Because everyone wants ice in their sodas, it's perhaps unsurprising that a 1939 salesman's sample of a cooler along with his original flip books and insulation samples, in near mint condition, fetched $5,700.
Prices shown include the buyer's premium as reported by the auction house.
For information, 856-692-1881 or www.bertoiaauctions.com.
This red Marklin cab locomotive with tender remained in the family of the original owner and was in near mint condition despite missing a bell and headlight. Sold to a bidder in the auction room for $21,600, it easily exceeded expectations (5/$7,500).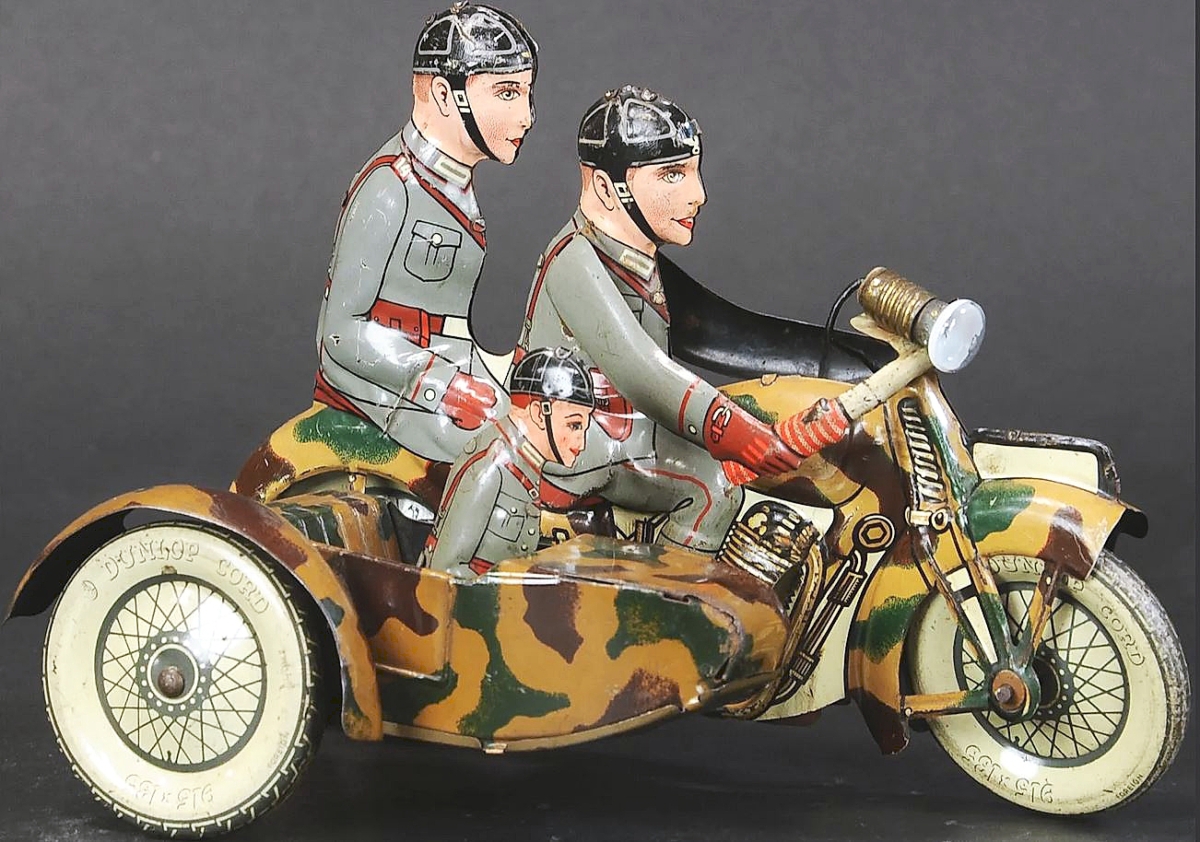 Tippco featured in the headlines of a recent Bertoia auction; once again it was among the top lots proving its desirability. This German Army motorcycle with sidecar was in excellent condition, although the battery compartment was probably replaced, at $13,200 (6/9,000).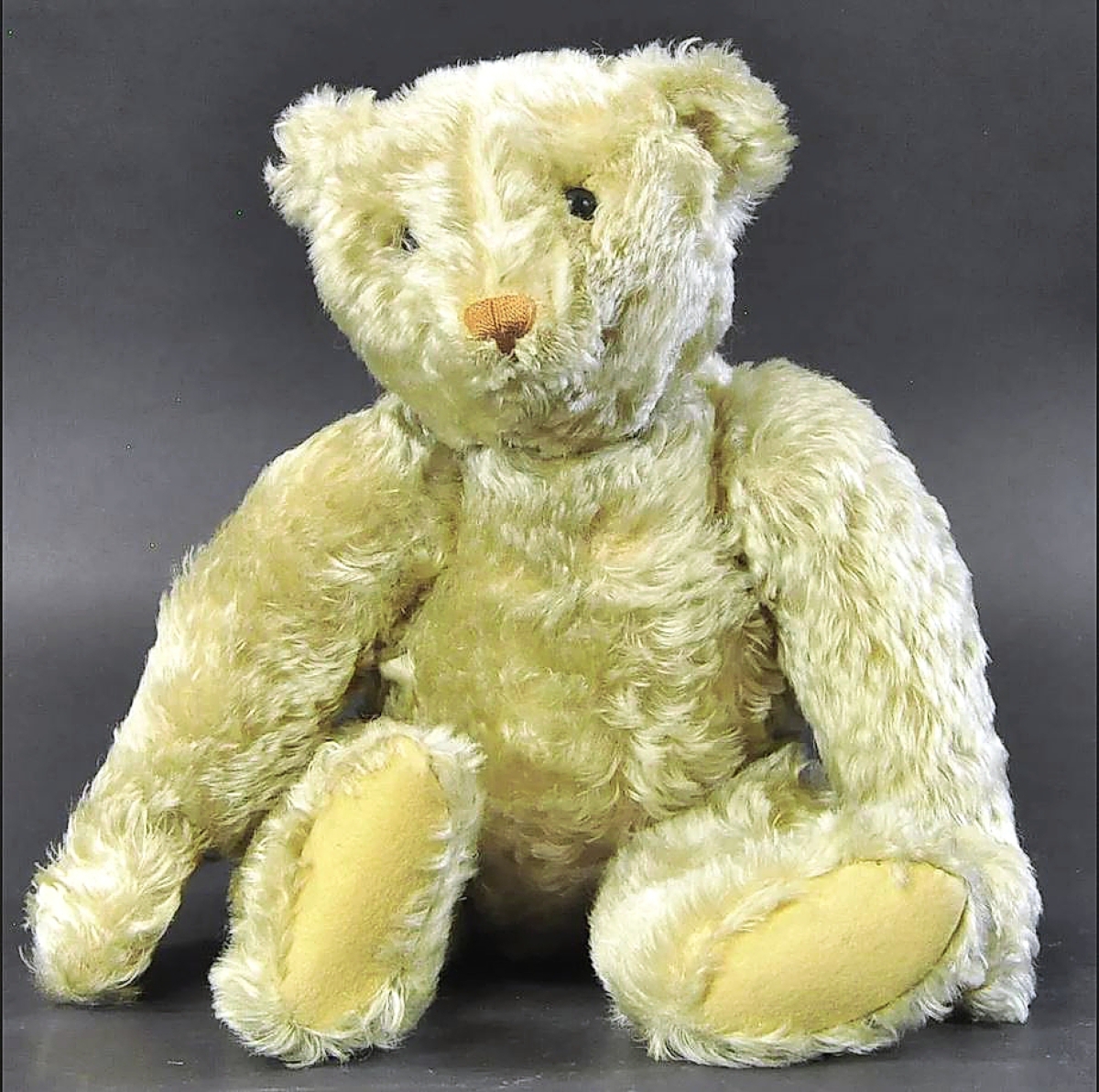 The only Steiff toy in the sale was this 20 inch center seam teddy bear in excellent original condition. He charmed Bertoia's bidders on $13,200 (4/$7,000).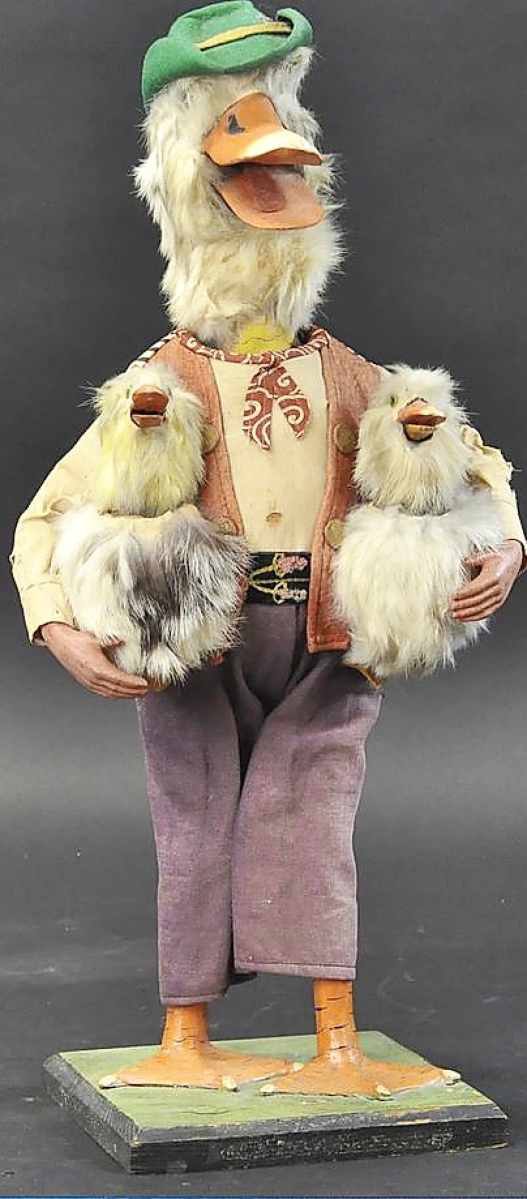 Despite minor rips to clothing, this 21-inch-tall mechanical goose gander with goslings exceeded expectations, fetching $12,000 (5/$7,000).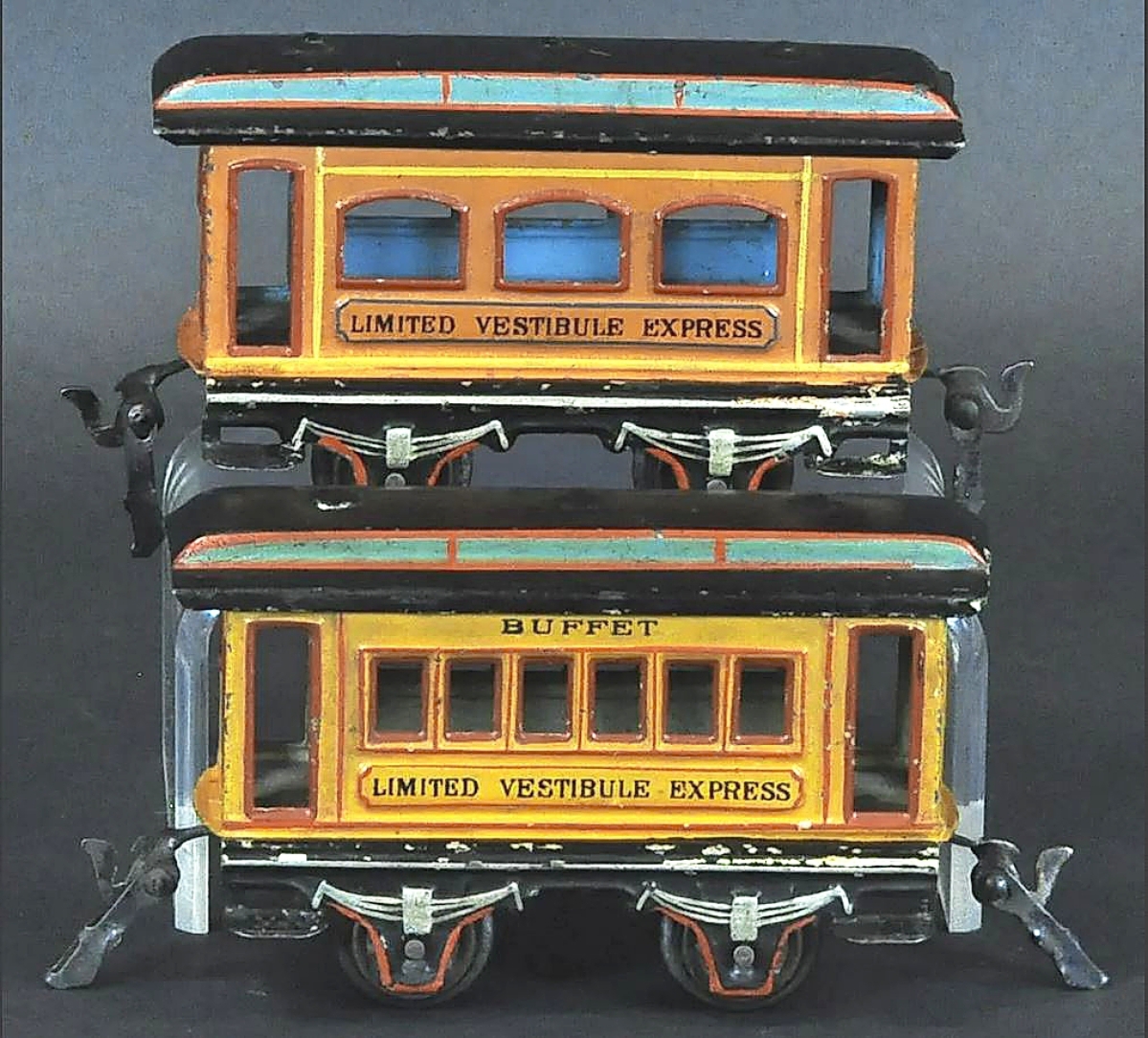 Included in Marklin's sale offerings was this lot of two O gauge Limited Vestibule Express (LVE) cars that were found at an estate sale in upstate New York. In excellent condition, both ran for $11,400 (5/$7,000).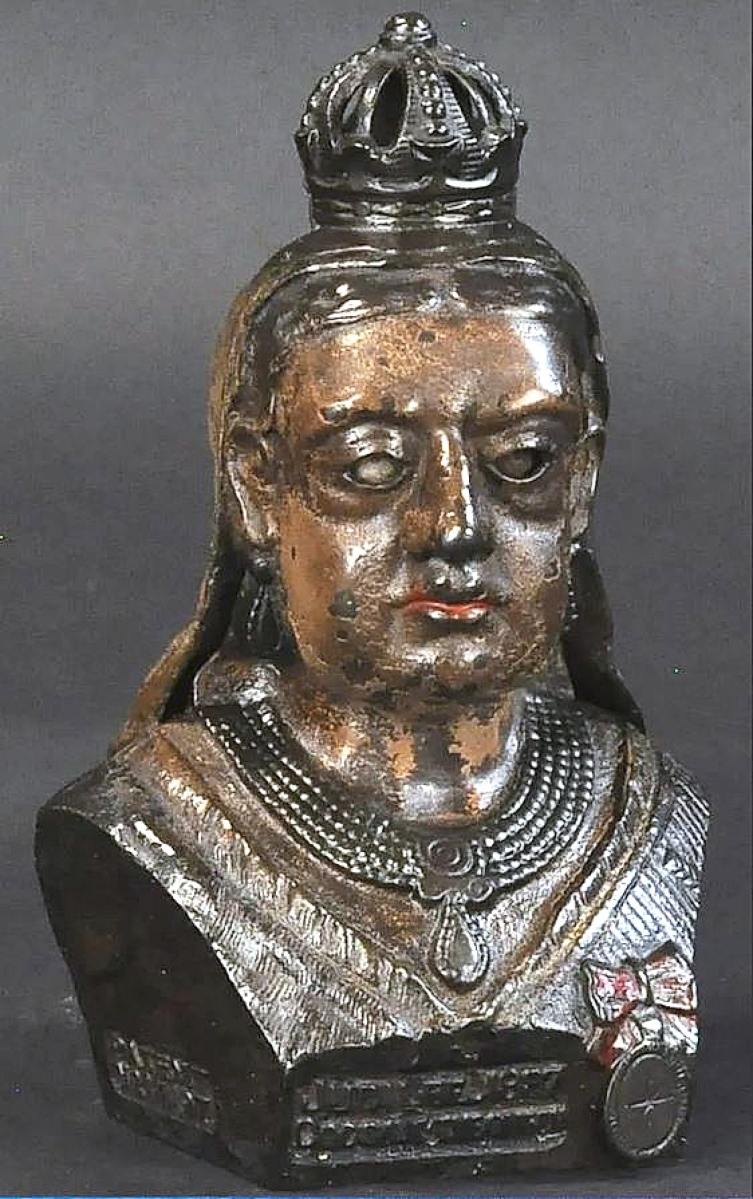 Nearly 90 mechanical banks and stills were offered over the two days of sale. This mechanical Queen Victoria example, cataloged as a very rare example in very good condition, circa 1897 and from the Al Davidson collection, was the most cashed in, fetching a royal price of $10,800 (5/$7,500).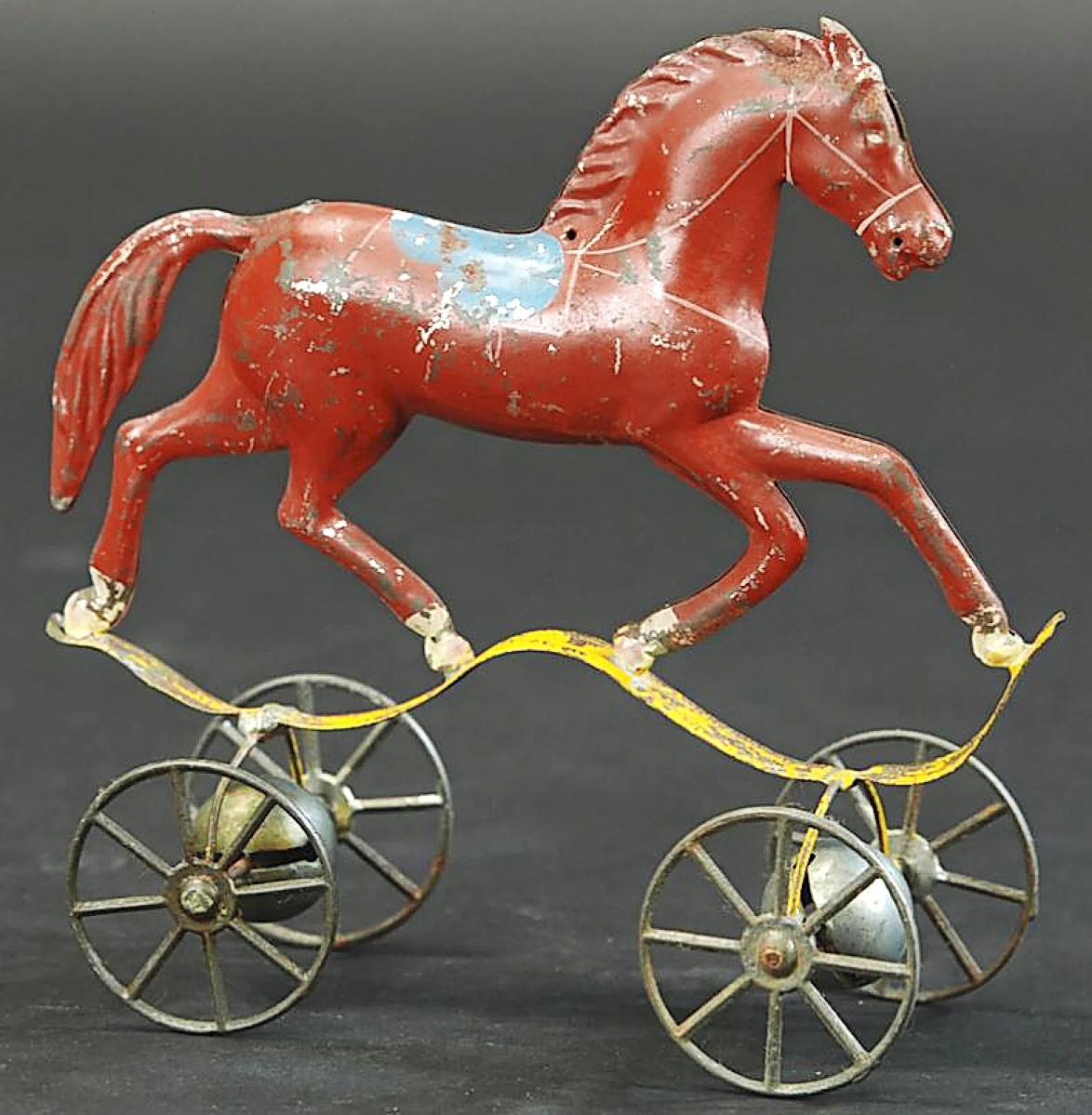 Despite rewelding the rear axle at the base, this American horse tin bell chimer was in excellent condition for its age. It exceeded its estimate by $700 to $1,000 to close at $9,600.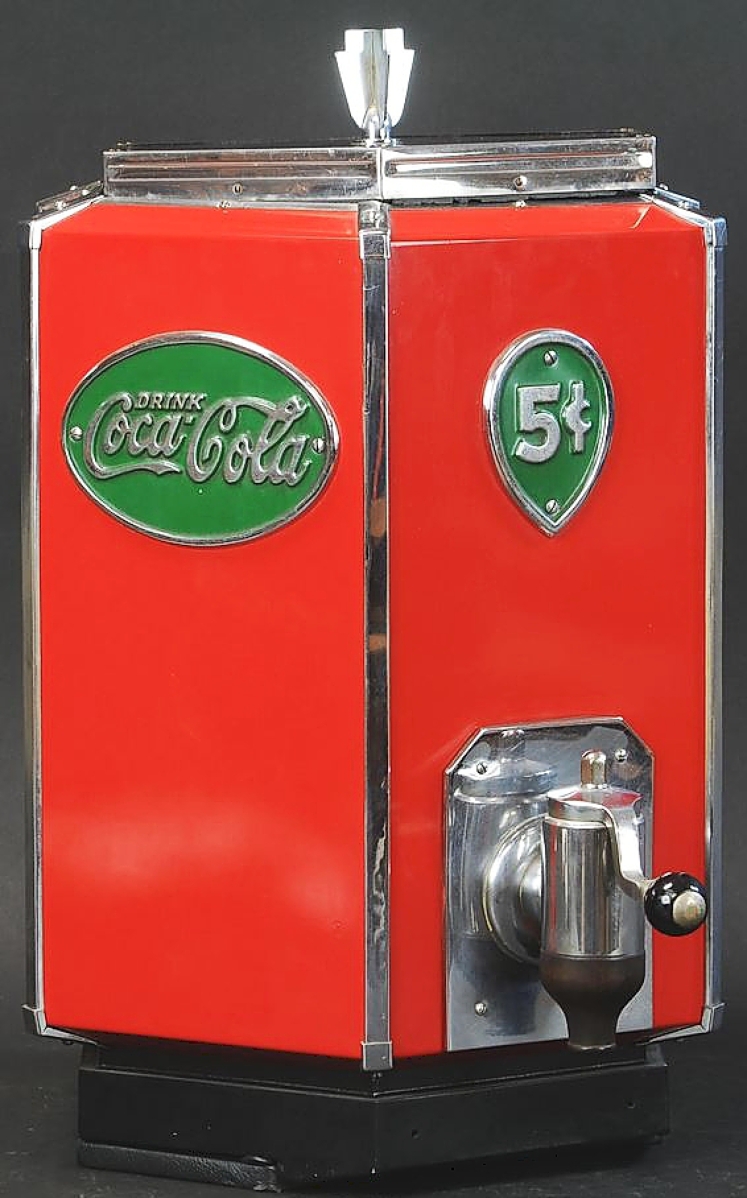 This rare 1930s five-hundred six-sided Coca-Cola dispenser sparkled the Ray Burgess collection, which had nearly 100 lots for sale. It grossed $9,600 ($000).